Griffon Korthals
This story is about our two Wirehaired Pointing Griffons Tsjip and Sarah. We've always had dogs and in 1995, about two years after our big fluffy Bouvier died of old age, we decided to get a new dog. We wanted a dog of a different breed, because no other Bouvier could have lived up to our old Ceetha. While looking at books and searching the internet, we stumbled upon a hunting dog breed called Griffon Korthals' or in English 'Wirehaired Pointing Griffon'. We liked the looks (wirehaired) and we liked the descriptions of their character. We visited a dog show in Belgium, in the hope to meet them in the flesh so to speak and we were lucky, there was one. We saw the dog, spoke to the owner and then we knew that this breed, the Wirehaired Pointing Griffon would be the dog we would like to have.
Copyright text and photos, if not mentioned otherwise: Titia Geertman
---
And here our Griffon Korthals story begins….
---
With the birth of 9 Wirehaired Pointed Griffons
Griffon Korthals dogs are born white with brown spots, which this one time breeder didn't know and he told us it shocked the hell out of him when the pups appeared, because he thought his dad's Springer Spaniel had beaten the choosen stud dog.
As I wrote their story in little (Dutch) rhymes once, which most of you, obviously, wouldn't understand if you don't speak Dutch, I decided to write a translation in English for you.
So the old dog passed away at the age of thirteen years,
she was such a crazy dog, so I've shed some salty tears.
No more dog, but then we knew, we could never live without,
It had to be a different breed or we would compare, no doubt
After looking here and there, this hunting dog popped up,
way up North and we had luck, they had some darling pups.
Out of nine we had to choose, hard to do, they all were sweet,
but at last we did pick one, to our hearts she reached indeed.
We drove her home by car, it was a long, five hour drive,
she took a nap and played a bit, her teeth sharp as a knife.
We called her Tsjip (the Lion tamer) which name I found in a Dutch book,
fast we came to understand how serious her name she took.
♥♥♥♥♥♥♥♥♥♥♥♥♥♥♥
Children's books about dogs
I'm a collector of old (illustrated) children's books and one of them was written by a well known Dutch writer Willem Elschot (1882-1960), it was called 'Tsjip, the lion tamer' (Tsjip de leeuwentemmer).
 Tsjip, the Lion tamer: the story continues….
 how to raise your pup
Just like childeren, every pup needs an education to learn what is ok and what is not ok to do.
The most mistakes in raising a pup is not knowing how a dog's mind works.
Our first Wirehaired Pointing Griffon
I saw in our little pup a lion tamer and besides that, I just liked the name, it's short, easy to call out.
Yes, superior she was, on the pry to extend her borders,
looking innocent and all, while she disobeyed my orders.
I had to do some gardening, put some plants in here and there,
then found out after a while, they lay scattered everywhere
What I put in – she pulled out, deaf she was to every call,
such a joyfull pup she was, life for her was just a ball.
We put her behind a fence, to protect her from the street,
it took her only a minute of five and she was at my feet.
She had no heart for fences, but would rather roam about,
and I can tell you people, her voice was clear and loud.
I raised up high my finger, pointing out that she should stay,
but Tsjip looked up and said "I just might, some day"
♥♥♥♥♥♥♥♥♥♥♥♥♥♥♥
Our Korthals Griffon Tsjip Growing up
This dog truly had humor
It will take some time to read, if I told you all she did,
never knew that dogs had humor, this one had, I must admit
She could open the backdoor, from within and from outside,
Not a problem during days but she did it too at night.
Many hours roaming fields, chasing wildlife so to speak,
many miles to both our cars, as we drove around to seek.
Seven seat belts down the drain, all on her account,
Be locked in was not her thing, she chewed without a sound.
♥♥♥♥♥♥♥♥♥♥♥♥♥♥♥
Then came Tsjip's Sister Sarah…. – badly abused by her former owner
Sarah is the litter sister of Tsjip, same mom, same dad.
When Tsjip was eleven months old, we got an arousing call,
her sister – living somewhere else – was not doing well at all.
Not accepted by the dog, who's house she had to share
and the lady who had bought this pup, really did not care.
She had put her in an asylum, but I couldn't bear that thought,
so it took us just one minute and this second dog was bought.
All I saw when I drove over, was a big heap of misery,
front legs bold and bones stuck out, saddest dog there'll ever be.
They'd just put her in the garage, slapt her when she made a sound,
she was crated in the night, so she would not mess around.
Her bold legs? She scraped the hair off, trying to get out.
I just cried when they told me and forgive me: cursed out loud
We groomed and cuddled her, it took us quite a while
to get her where she should have been: a little dame with style.
She was such a lovely dog and all she gave was love,
I'm sure her gardian angel had phoned us from above..
And with 'crate', you don't imagine a bench, but a high solid wooden crate, from where she couldn't jump out. She hadn't been fed properly either, that's why Sarah would eat anything, up to raw potatoes, onions and sweet peppers. She would kill for tomatoes.
♥♥♥♥♥♥♥♥♥♥♥♥♥♥♥
I'm here, I'm listening
to your voice,
but when there's snow
I have no choice,
then to dig in deep
you know,
putting up a little show.
I love to walk,
but not in snow.
It's sticky and
it won't let go,
but every morning
I forget,
I must be the world's
dummiest pet.
♥♥♥♥♥♥♥♥♥♥♥♥♥♥♥
Towards the End of our Dogs Lives
Our dogs lived only 8 years
We had a wonderful time with Tsjip and Sarah, despite their running away from home at any chance they got, roaming the fields for sometimes 16 hours long, they never caused any trouble (thank God for that). They always left together and came back together. Took them days sometimes to recover again. These dogs had so much humor, especially Tsjip, she could 'laugh' and did it every time she knew she had done something 'bad'. She learned Sarah how to steel. She said: "Look Saar, if they leave something on the counter, don't eat it all, but one at the time, then they won't notice it so quickly. And when you want to sneak outside: do it when they have company and are involved in discussions, then they won't hear me opening the door. When you have done something bad, just show your teeth and sway your tail, I discovered that it makes them laugh and they forget to scorn you".
But we knew that Sarah wouldn't live very long, with her Addison disease and her heavy medication. She managed to have fun for another 6 years though, but then…one day…she layed down her head…waited for me to come home ( I like that thought) and the minute I touched her, she was gone.
First our dog Sarah passed away
 November 5, 2003
She was a special dog, our Sarah,
first year of her life, she was abused
by people who ignored the precious gift
she offered them, her unconditional love.
She was a special dog, our Sarah.
after eleven months rejoined
with her sister Tsjip with whom she
didn't dare to play, those first days.
She was a special dog, our Sarah,
when she looked at you with those
big brown eyes, begging you to throw
the stick, then she would run and catch it.
She was a special dog, our Sarah,
holding on, while Addison disease took over
her body at the age of two, heavy medication
throughout her life, but she managed fine.
She was a special dog, our Sarah,
but tonight she decided to leave us. She died
at 17.30 local time, at the age of almost 8
we will miss her terribly
our special dog Sarah, may you rest in peace.
♥♥♥♥♥♥♥♥♥♥♥♥♥♥♥
Then we got Bad News about our dog Tsjip
Degenerative Meylopathy
A few weeks after Sarah died, we noticed that Tsjip wasn't walking like she should, she was somewhat dragging along her left behind leg. We went to the vet and the bad news we got was: Tsjip suffered from Degenerative Myelopathy and she would slowly paralise from her waist down (her behind). It wasn't aggressive at first, but after a few months she hardly could walk anymore. Fact was that she wasn't in pain at all and her mind just didn't know that her behind legs weren't coöperating too well anymore. She acted as happy as always, tearing up newspapers and all. We decided to draw the line to the moment she wasn't able to reach her water bowl by herself anymore.
Farewell Tsjip, Farewell Sarah
Joined together today in spirit, in the fields of the unknown,
leaving us behind with mem'ries, of the love that they have shown.
Tsjip and Sarah were two dogs, whom we never will forget,
both had such a lovely character, they were wonderful as a pet.
Sarah was a dog so tender, one could only love this girl,
Tsjip was just a rebelleous teen, but in heart a precious pearl.
We're feeling sad, without the grief, for Tsjip it was the end,
she couldn't walk, she couldn't play, the way for dogs was planned.
Today she died in peace, she did, while laying under her tree,
one little shot, that was enough, to let her spirit fly free.
She joined her sister Sarah, they will roam the fields above,
we're closing this chapter of two dogs, to whom we fell in love.
November 5, 2003 and June 15, 2004
May they rest in peace
our Tsjip and Sarah
♥♥♥♥♥♥♥♥♥♥♥♥♥♥♥
Korthals Griffon Epilogue
This is my story about our Tsjip and Sarah, our two Wirehaired Pointed Griffons. The breeders of the Korthals Griffon (wirehaired pointing griffon) succeeded to keep this breed solid for over 100 years. They weren't even sold to people who wouldn't hunt and that kept them pure. When we bought Tsjip, they just started to sell them to non hunting people like us and though I'm very glad to have known this breed so close, I can imagine Eduard Korthals turning in his grave, if he had known. Sarah came to us at the age of 11 month (January 1996), we took care of her, patched her up and in May 1996 we were invited for a litter show at the Korthals Griffon's annual dogshow. I groomed both dogs a bit (I don't like to pull all the hair out) , I had to submit them in the class of one year olds, there were 45 entries in total and to my big surprise Sarah won the title 'Best in Show'.
The judge said: "This is how a Korthals Griffon should look like, this is our future". Our Sarah, who had suffered terribly for 7 months out of her one year old life, defeated all those fancy, well groomed male and female griffons. So I was a very proud lady that day.
Despite that we are not the hunting type people, we took a field course and classes in how to handle these pure bred pointing hunting dogs, in order to be able to react to them in the right way. First time Tsjip had to apport a dove dummy from a distance, she fetched it perfectly, but then looked at me and started digging a hole to bury her prey.
Tsjip smells fowl, maybe a pheasant or something. There are still a lot of things I haven't told you, but stories must end somewhere and this story ends here. I hope you enjoyed my article about our two hunting dogs. It's been some years now since they died and despite the fact that I have bought and raised two Border Collies to help me herd my sheep, I still miss Tsjip and Sarah every day. They were very special dogs indeed.
---
You can find more Wirehaired Griffon gifts in my Zazzle store GoodLifeDesign.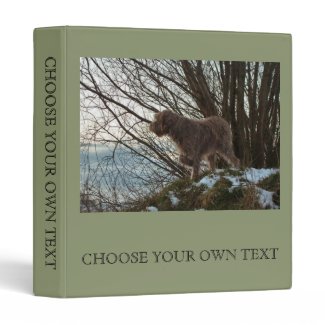 Binder 1″Zazzle.com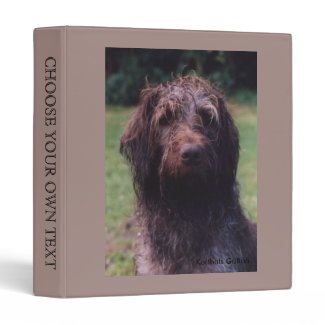 Binder 1″Zazzle.com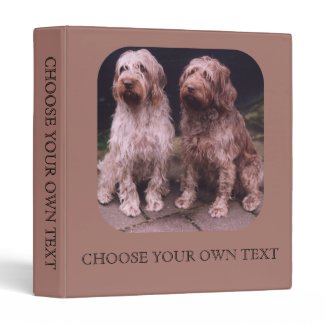 Binder 1″Zazzle.com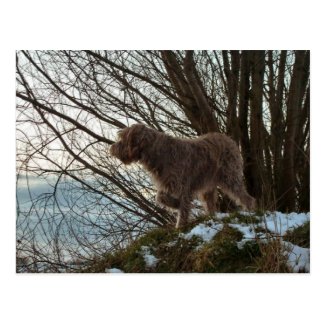 PostcardZazzle.com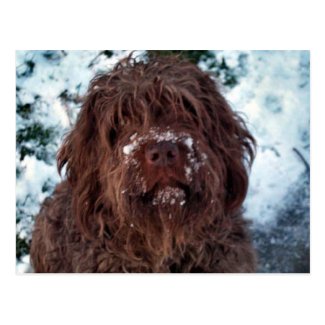 PostcardZazzle.com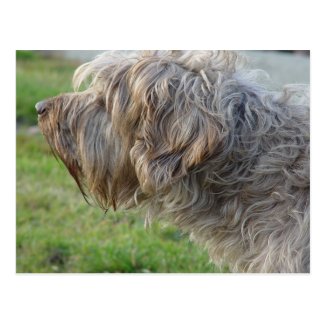 PostcardZazzle.com