A sparkling horse you won't forget easily once you've seen him
The Gypsy Horse is known by quite some names:
Gypsy Horse (USA),
Traditional Cob (Ireland/UK),
Gypsy Cob/Vanner (USA),
Colored Cob (UK/Ireland),
Tinker Horse (Europe)


A Gypsy Vanner's JourneyAmazon.com
A lot of names for ahorse breed that originates from the UK and Ireland. They come in a variety of colors, but the piebald coloring like the horse above is the most common and is predominant.
The Gypsy Cob was bred by the Romany to use as a wagon horse (wagons or caravans known as Vardos).
Besides the beautiful spotted pattern, they're wellknown for their abundant manes, tail and feathered legs.
There are lots of videos about the beautiful Gypsy Vanner Horse.
Gypsy Vanner CalendarAmazon.com
It took a long time before an official Registry was founded, because breeders would keep the pedigrees of their horses secret within their families.

The first Registry of this breed was founded in the USA as late as 1996 and today there are 3 different registry classifications, depending on the height of the horse. It took till 2004 that the breed became officially recognized by the United States Dressage Federation.
You can find more information about the Gypsy Horse at the:
Gypsy Horse Registry of America
Draft Horse gifts in Amazon's Kindle store:
iPad Mini CoverZazzle.com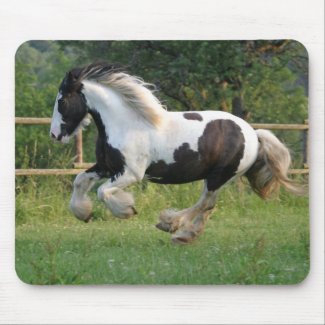 Vanner MousepadZazzle.com
Irish Pinto NeckwearZazzle.com
You can find more Gypsy Cob Gifts at Zazzle.com
Draft Horses – Belgian Draft Horse – Clydesdale Horse – Friesian Horse – Percheron Horse – American Cream Draft Horse – Sugar Bush Draft Horse – Shire Horse – Haflinger Horse – Norwegian Fjord Horse – Gypsy Cob Horse