We owned a Draft Horse once
Long time ago we had a horse. We got him when he was 17 years old and it was our first (and last) horse. It was a Haflinger horse, but one of the old Austria heavy breeds,  a real working horse. This is not a picture of our horse, but it looks just like Mingo. I know we have photos of Mingo, but I can't find them at the moment. Could well be that the kids took them.
We used Mingo to get the hay in and it was always a pleasure to work with him. He just loved to work.
Anyway, after several years, when both our girls left home and we decided not to cut and dry and get our own hay in anymore, we had not much work left for Mingo to do anymore and we didn't wanted a horse just for eating the grass. So we decided to sell him to a friend of a friend who wanted to work with him.  I know that he reached the age of 40 years. After that we lost contact with his owners so I don't know at what age Mingo died.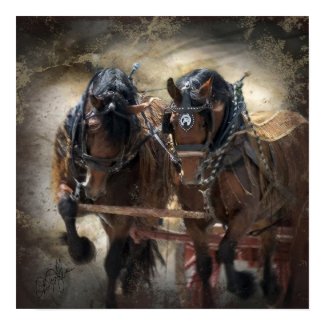 Bay Draft Team Digital Art PrintZazzle.com
 Short History of Draft Horses
Draft Horses have long been considered the farmer's greatest asset. These horses are built to do the heavy work. They have a more aligned structure, their body length has been reduced and they have sturdy hindquarters, a heavy bone structure and most of the time their lower legs are feathered to protect them from being injured. They are one mass of power, horse power.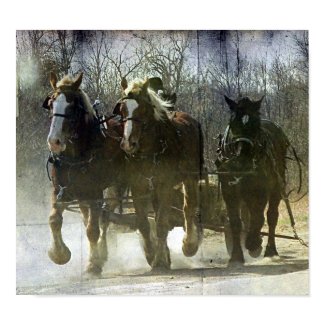 Working Draft HorsesZazzle.com
In the old days, humans domesticated horses to perform a variety of duties and as each duty required a certain type of horse. Horses that are used to drag logs out of the woods (dangerous job) need to have a calm and patient temperament, while horses that are used to drive carriages must be more energetic and fast. So in breeding the draft horses, a certain amount of selective breeding was used (to the possible extend) to develop the right horse for the right job.
People often refer to this type of horse as Draft Horse, Heavy Horse or Working Horse.
Draft Horses have been and still are bred all over the world and they're all "designed" to perform specific heavy duties including all kinds of work which humans can't do by themselves, because they don't have the strength for it.
You'll find a lot of beautiful Horse Gifts for Horse Lovers on my site, like photographs, drawings and paintings, created either by amateurs or artists which have been printed on products of the Zazzle Storekeepers.
You can either purchase them for yourself or give them to family or friends who love Horses and the beaty of it is, most of those designs are personalizable and/or customizable. You can make it into a very special personal gift.


Draft Horse Coat RacksZazzle.com
Draft Horse LampZazzle.com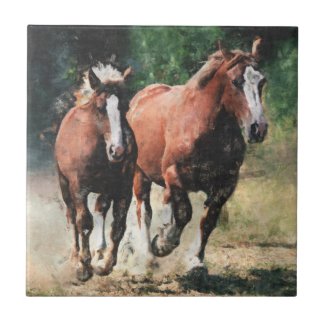 Draft Horse TileZazzle.com
Today most of the heavy farm work has been taken over by big and heavy machinery, which have more horse powers and can do the jobs mutch faster. There are farmers though all over the world who still work with Draft Horses, think of the Amish people in the USA. In most countries today Draft Horses and Draft Horse crossbreds are often used for a multitude of purposes, like heavy load dragging competitions, ploughing competitions, shows, recreation, driving carriages.
I just love draft horses and I've written short stories about 10 Draft Horse Breeds in the USA and added some lovely gifts.
Draft Horse gifts in Amazon's Kindle store:
Draft Horses – Belgian Draft Horse – Clydesdale Horse – Friesian Horse – Percheron Horse – American Cream Draft Horse – Sugar Bush Draft Horse – Shire Horse – Haflinger Horse – Norwegian Fjord Horse – Gypsy Cob Horse