A Scot among the Heavy Horses
The Clydesdale is named after the region of its origin, Clydesdale in Scotland. It is a tall breed but originally it was one of the smaller breeds of the draft horses, first recorded by the name of Clydesdale in 1826.
The breed was developped by crossbreeding the imported Flemish stallions to the local mares.


Clydesdale BookAmazon.com
Around 1970 the breed was close to extinction, but was rescued by the Rare Breeds Survival Trust, who thought the breed was too vulnerable to let it disappear.
Today the breed is still not out of the danger zone, but has increased in population numbers.
The horses in the top right photo are of a special color variety of the breed, called the Budweiser Glydesdale
There is much more information about this beautiful breed available at the following websites:
The Clydesdale Horse Society (UK)
Clydesdale Breeders of the U.S.A.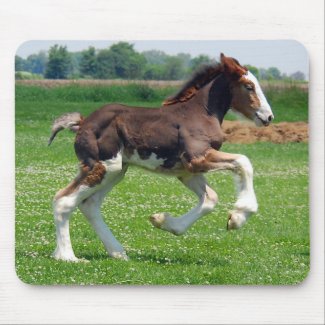 Clydesdale MousepadZazzle.com
Draft Horse gifts in Amazon's Kindle store:
You can find more Clydesdale gifts on Zazzle.com and most gifts can either be customized or/and personalized.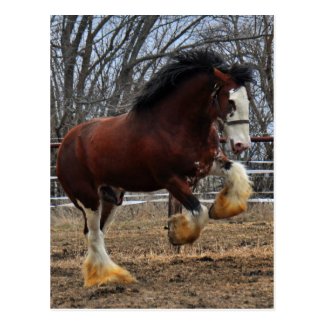 PostcardZazzle.com
T-shirtZazzle.com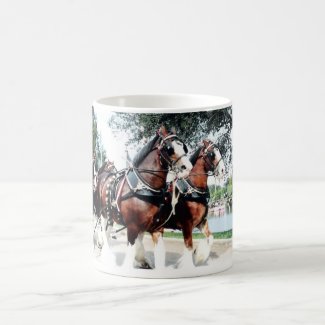 MugZazzle.com
More Draft Horse Breeds:
Draft Horses – Belgian Draft Horse – Clydesdale Horse – Friesian Horse – Percheron Horse – American Cream Draft Horse – Sugar Bush Draft Horse – Shire Horse – Haflinger Horse – Norwegian Fjord Horse – Gypsy Cob Horse